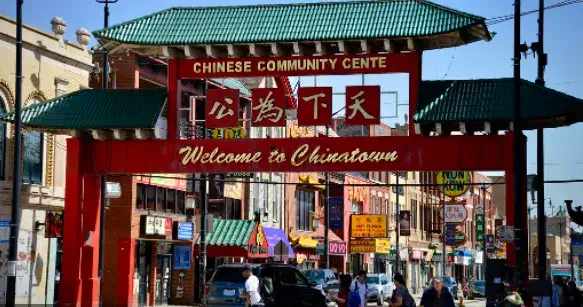 Chicago people love a good neighborhood, and Chinatown has long been the city's best-kept secret. The graffiti-ridden and exclusive enclave of yore has been quietly evolving over the last decade into a more inclusive, accessible place for all residents to enjoy. 
While still residential-heavy and less touristy than its Downtown cousin, Chinatown is as vibrant as ever thanks to an influx of new Chinese restaurants and weekend visitors from neighboring communities. Here's a look at the history, food, culture, and future of Chicago's premier Chinatown.
Chinatown Chicago History
The U.S. witnessed its first surge of Chinese immigration during the 1849 Gold Rush. As the Chinese population pushed eastward over the following several decades, along with the transcontinental train, Chicago's first Chinese neighborhood was established downtown, along with Clark and West Van Buren Streets.
But as Chicago's population increased from 500,000 to over 1 million between 1880 and 1890, the rising Chinese community demanded elbow space and a home to call its own. Many came to the near southwest region of the city, along South Wentworth Avenue and Cermak Road, forming what has now become Chicago's flourishing Chinatown, a tightly packed, 30-block district with 27,000 inhabitants and over 400 enterprises.
A significant structure in the Chinatown cityscape has a colorful past. In the 1920s, a group of Chinese community leaders known as the On Leong felt that a clear visual statement of Chinese presence would strengthen Chinatown. They created a characteristically Chinese edifice, with twin pagodas on its parapets. The On Leong Chinese Merchants Association had 30 firms. In the 1960s, the FBI confiscated the building when it was determined that it acted as headquarters for organized criminal activities involving racketeering and gambling. Today, the non-profit Pui Tak Center offers a community, cultural, and social services center in the building.
Around the nexus of Wentworth and Cermak, restaurants providing Cantonese, Szechuan and other regional Chinese cuisines lure Chinese food aficionados from all around. Nearby, the newly renovated Ping Tom Park offers a link from Chinatown to the South Branch of the Chicago River, and tourists may board a water taxi downtown.
Of course, Chicago's Chinatown offers tourists much more than delicious food. Visitors encounter an old civilization whose people have persisted through time and incorporated the finest of East and West customs and traditions into a real Chicago lifestyle. St. Therese Catholic School is a wonderful illustration of this blending, providing superior academics and language studies in both Mandarin and Cantonese.
Dining in Chinatown Chicago
The Chinatown neighborhood is a haven for delicious Chinese food. Restaurants here serve cuisine from all over China, so there's something to appeal to everyone's taste buds. Some of the most popular places to eat in Chinatown include:
– Dim Sum restaurants like Joy Yee's Noodle Shop and MingHin Cuisine
– Szechuan restaurants like Lao Sze Chuan and Chinatown Square
– Cantonese seafood places like Kam Sing Chinatown Seafood Restaurant and New Chinatown Restaurant
No matter what kind of Chinese food you're in the mood for, you'll be able to find it in Chinatown. So come hungry and enjoy all that this neighborhood has to offer!
Looking for something other than Chinese food? Chinatown is home to a variety of international restaurants, including Indian, Thai, and Korean spots. There's definitely something for everyone in this neighborhood!
Shopping in Chinatown Chicago
If you're looking for souvenirs or unique gifts to take home with you, Chinatown is the place to go shopping. There are tons of stores in this neighborhood that sell all sorts of Chinese merchandise, from handicrafts and jewelry to clothes and food.
Some of the best places to shop in Chinatown include:
– Chinatown Square for a wide range of Chinese goods
– Chinatown Clothesline for traditional Chinese clothing
– Ping Tom Memorial Park for arts and crafts
No matter what you're looking for, you're sure to find it in Chinatown. So start exploring and enjoy all that this neighborhood has to offer!
Events, Festivals, and Attractions in Chicago's Chinatown
Chinatown is always buzzing with activity, thanks to the many events and festivals that take place here throughout the year. If you're looking for things to do in Chinatown, be sure to check out some of these popular attractions:
– Chinese New Year Celebration: This annual event features a parade, dragon dances, and more. It's a must-see for anyone visiting Chinatown!
– Chicago Dragon Boat Festival: This festival celebrates Chinese culture with dragon boat races, food vendors, and more. It's a fun event for the whole family!
– Chinatown Summer Fair: This annual fair features rides, games, food booths, and more. It's a great way to spend a summer day in Chinatown!There's always something to do in Chinatown. So come and experience all that this neighborhood has to offer!
Takeaway: Discover why Chinatown in Chicago is so cool!
If you're looking for an amazing Chicago neighborhood that feels like a world away from the hustle and bustle of downtown, look no further than Chinatown. This vibrant community is home to some of the best food in the city, as well as unique shops and cultural attractions. 
And if you want to capture all the excitement of Chinatown life, be sure to check out Click Play media – your one-stop shop for all your photography and videography needs!
Chinatown Address: Chicago, IL 60616 USA
Click for the next Neighborhoods: Lincoln Park
If you're looking for an Expert Filming Company in Chicago IL, contact us!
Map of Chinatown
Driving Directions from Click Play Media to Chinatown