Houston Video Production Company
Premiere Houston Video Production Company
In today's digital world, video content has become more important than ever. It has the ability to captivate audiences, convey messages effectively, and leave a lasting impact. From commercials and corporate videos to documentaries and music videos, Click Play Films is the go to Houston video production company to bring your idea to life. As technology advances and platforms like YouTube and social media dominate our screens, Houston's demand for high-quality video production is only growing stronger.
So whether you're looking to create engaging content for your business or embark on a creative journey as a filmmaker, we are ready to cater to your needs. Let's explore the exciting possibilities together!
Our Houston videographers are well-equipped to handle any array of projects, catering to the unique requirements of our clients. Whether crafting captivating commercials, producing engaging corporate videos, or documenting special events, our film production company offers the most comprehensive services encompassing every step of the production process.
To Speak with a Producer Right Now!
Leader in Houston Corporate Video Production
We understand that finding trustworthy professional corporate video production companies in Houston for your video can be overwhelming, especially with so many available options. That's why we offer commitment-free expert guidance and a customized onboarding process to help you decide whether we are a good fit for your project.
Here's how Click Play Films can help with your Houston corporate video production needs:
Understanding Your Needs: We take the time to understand your unique requirements. Whether you need a promotional video, corporate training content, or event coverage, we ensure that we have a clear understanding of what you're looking for.

Budget Considerations: We know that every project has its own budget limitations. Our team will work closely with you to determine your budget range and recommend video production services that align with your financial requirements.

Expert Recommendations: Based on our industry knowledge and extensive research, we provide personalized recommendations tailored specifically to your needs. We consider factors such as industry experience, relevant portfolio of work, and expertise in niche areas.

Small Video Production Agency: If you prefer working with smaller teams that can offer more personalized attention and flexibility, we are the best choice for small video production agencies in Houston. Our agency often excels at providing creative solutions within limited budgets while maintaining high-quality standards.

Saving Time and Effort: Instead of spending hours searching through countless websites and portfolios, let us do the legwork for you. Our custom onboarding service saves you valuable time by presenting only the most suitable options for your project.
Film Production Services in Houston
Music Video Production 
We specialize in producing visually stunning music videos that captivate audiences. With our expertise in cinematography and creative storytelling techniques, we bring artists' visions to life on screen. Whether it's an intimate acoustic performance or an energetic music video with elaborate sets and choreography, Click Play Films has the skills and experience to deliver outstanding results.
Houston Animation Studio
Click Play Films Houston Animation Studio is not just another studio; it's a legacy. Having been in the animation industry for decades, we've seen the evolution of animation – from traditional hand-drawn illustrations to groundbreaking CGI magic. Our history intertwines with the global progression of animation, and we've always been at the forefront of pushing boundaries.
2D & 3D Animation: With a team of seasoned animators, we bring concepts to life with meticulous attention to detail and a passion for storytelling.

Storyboarding & Concept Art: Before animation begins, our artists visualize the narrative, ensuring that every frame tells its own story.

Post-production & Sound Design: After animation, our post-production team polishes the piece to perfection, accompanied by soundscapes that elevate the overall experience.
To Speak with a Producer Right Now!
Unleashing the Power of Video Production
Video production is a powerful marketing tool that businesses can no longer afford to ignore. With our ability to produce videos that captivate audiences and convey messages effectively, video is an integral part of any successful marketing strategy. Let's explore how you can harness the potential of video production to drive growth and reach new heights with your marketing strategy.
Video production offers businesses a unique opportunity to engage with their target audience in a visually compelling manner. By leveraging broadcast videos, motion graphics, and animations, companies can create captivating content that leaves a lasting impression on viewers. Whether it's a corporate video project or a sizzle video for social media, high-quality videos have the power to grab attention and generate interest.
Businesses across various industries can benefit from incorporating videos into their marketing strategies. For instance, e-commerce companies can showcase product demonstrations through video content, allowing customers to visualize the features and benefits before making a purchase. Service-based organizations can use videos to highlight their expertise and build trust among potential clients.
Well-executed video content has proven time and again its impact and effectiveness in capturing audience attention and delivering key messages. It allows businesses to convey their brand story, evoke emotions, and engage with viewers on a deeper level. Whether it's a promotional video or a corporate film, the power of storytelling through video production cannot be underestimated.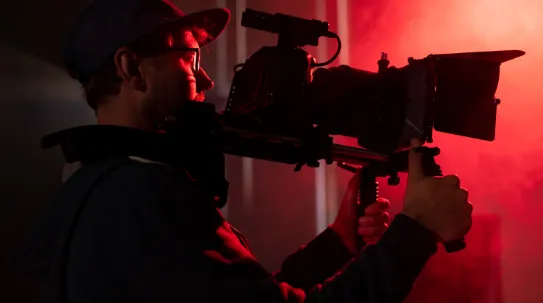 Free Quote for Houston Video Projects
We love creating budgets and helping our clients realize their vision. Let's get in touch and see how we can get your audience to Click Play on your videos!