Fort Lauderdale Video Production
Fort Lauderdale

Video Production Company
For top-notch video production services in Fort Lauderdale, choose Click Play Films. Our company is located at 110 East Broward Blvd, Suite 1700, Fort Lauderdale, FL 33301 and serves the entire state of Florida. With a decade of experience and countless successful projects, you can trust our team of skilled producers, camera operators, directors, and writers to create a standout video that delivers results.
Film Production in Florida
Florida is an excellent choice for TV and feature film production due to its favorable weather and tax incentives. Many famous movies, including Scarface, Bad Boys, and There's Something About Mary, were filmed and based in Florida, with plenty of skilled film crews available for hire. Additionally, Florida offers a sales-and-use tax exemption on production-related purchases. For more information about these incentives and how to make the most of your shoot, visit Film In Florida or contact us directly. We're excited to hear from you!
To Speak with a Producer Right Now!
Corporate Video Production Company in Fort Lauderdale
Our goal is to captivate our audience with stunning cinematography and gripping storytelling. We excel at transforming ordinary topics into exciting content, setting us apart from other video production companies in Fort Lauderdale, Florida. It's no secret that corporate and business video production services can be dull and unimaginative. That's where we come in! Click Play Films is dedicated to ensuring that every moment of your video is captivating and enjoyable for your viewers. Our aim is to keep them engaged until the very end.
Join the dozens of Chicago clients who produce their videos with Click Play Films!
Our video production company offers a wide array of capabilities including producing and supporting feature films and TV series projects both scripted and unscripted, as well as commercial video production services and
corporate
video production in Florida and the rest of the United States.
The Click Play Films Video Production Process
We ensure quality video production for all our clients by following this tried-and-true six step process for every project we produce.
Before beginning the video project, we need to have an initial discussion or "first call" to determine the goals and format of the video, as well as the topic and subject matter. We will also need to assess the assets we currently have and identify any additional assets that may be necessary to ensure the project's successful completion.
The most enjoyable aspect of the process is creating the video treatment. During this phase, we identify the most practical, innovative, and impactful methods to convey our message. It involves brainstorming our initial concepts and conducting market research to assess the strengths and weaknesses of other videos.
It's said that practice makes perfect, and in filmmaking, pre-production is what makes the shoot perfect. This is the administrative phase where we ensure everything is in order, from casting and location scouting to acquiring necessary permits and clearances. We also take care of all the set and wardrobe fabrication. A checkout day is scheduled for all the equipment, and we compile the schedule and call sheets.
At this stage of production, the phrase "Light, Camera, Action" is often heard as filming begins. It's crucial that pre-production was done right to ensure a smooth day. This day usually poses both the greatest challenge and excitement of the entire process. While shoot days typically last 1-2 days, they can span multiple days or even weeks for larger productions.
During the editing process, our hard work begins to come to fruition. We shape the footage into a timeline and trim and adjust until we have a captivating and engaging video that viewers will enjoy until the very end.
After completing the videos, we usually use a digital transfer service like Dropbox or WeTransfer to send the final files. Additionally, we can create various versions of the video to fit perfectly on the platforms where you intend to share them.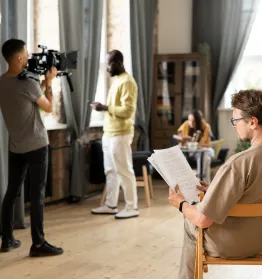 Free Quote for Florida Video Projects
Let's connect and explore how we can help you capture your audience's attention and encourage them to watch your videos!
Our Promise For Your Video Production Project
We ensure every client gets the attention they deserve by focusing on understanding the brand and
company before we start developing the treatment for your video
. Our research focused approach has helped our clients get the results they deserve. We are not a freelance agency that only thinks about getting paid. As a matter of fact, we don't even charge a penny until we fully develop the project with our clients and are ready to schedule the shoot day. You heard that right we help with all preliminary location scouting, casting feelers and script development all FREE of charge – no commitments.
Our Local Video Production Services
Corporate Videos
In today's digital era, corporate videos play a crucial role in a company's marketing efforts. Our primary objective is to create top-notch videos that give businesses a professional appearance and help them stand out from the competition. Our video production services for businesses in Fort Lauderdale and other parts of Florida are cost-effective and efficient. If you're uncertain about the type of videos your company requires, we can guide you in selecting the optimal video campaigns to maximize your investment's value. Visit our website to learn more about our services.
Commercial Production
Looking for a reliable commercial production company that guarantees top-notch customer service and quality work? Look no further than Click Play Films in Fort Lauderdale. With over a decade of experience under our belt, we've produced award-winning commercials for major brands like Toyota, Canada Goose, and UPS, as well as popular Netflix shows like House of Cards and Stranger Things. And now, we're ready to bring that same level of expertise to your own brand's video and commercial production needs.
Animation Studios
Our animation studio is situated in Florida and offers a wide range of animation services, including 2D and 3D animation, Visual Effects (VFX), Motion Graphics, and Explainer videos. Our motion design and animation experts have the skills to turn any concept into a reality, allowing you to bring your creative vision to life.