Chicago Video Production Company
Picture this: a thriving video production industry right in the heart of Chicago. With its bustling streets and vibrant culture, the Windy City has become a hotbed for all things video-related. From small startups to established studios, Click Play Films caters to every aspect of video production in Chicago.
It's not just the deep-dish pizza and iconic skyline; the endless opportunities that this city offers for businesses and creatives alike make Chicago the best city to find cutting-edge productions. And the demand for professional video services is skyrocketing, with companies unable to ignore the power of visual storytelling in capturing their audience's attention.
Click Play Films is the best Chicago video production company for companies looking to maximize their budgets and get professional results. We offer more than just lights and cameras—we're about creating captivating content that leaves a lasting impression. Whether you're looking to promote your brand or unleash your creative vision, our dynamic video production services have you covered. Just leave the heavy lifting to us and grab your popcorn to enjoy what a professional video production company can do for you!
The Leading Corporate Video Production Company in Chicago
Trusted provider of corporate video production.
Click Play Films is a trusted name in the world of corporate video production. With over 15 years of experience and a team of skilled professionals, we have built a reputation for delivering exceptional videos that meet the unique needs of our clients. Our commitment to quality and attention to detail set us apart from the competition.
Companies in Chicago have trusted Click Play Films to deliver outstanding results since 2013. We understand that every company has its own story to tell, and we work closely with our clients to ensure that their vision is brought to life on screen. From concept development to post-production, we are dedicated to creating videos that resonate with your target audience.
Extensive experience working with top companies in Chicago
At Click Play Films, we have had the privilege of working with some of the top companies in Chicago and beyond. Our portfolio includes projects for Fortune 500 companies, startups, and everything in between. This extensive experience has allowed us to gain valuable insights into various industries and develop a deep understanding of what works best for different brands.
Our team has worked on diverse projects ranging from product launches and promotional videos to training materials and corporate event coverage. We know how important it is for businesses to communicate their message through video effectively, and our expertise enables us to do just
Join the dozens of Chicago clients who produce their videos with Click Play Films!
High-quality videos on budget and on time.
One thing that sets Click Play Films apart is our unwavering commitment to delivering high-quality videos on budget and on time. We understand that time is money, especially in the corporate world, which is why we prioritize efficiency without compromising on quality.
From pre-production planning to shooting and editing, our streamlined process ensures that every project progresses smoothly. We utilize only the latest state-of-the-art camera, lighting, and sound equipment and technical know-how to deliver stunning visuals and crisp audio. We also offer motion graphics and animation options to enhance the overall impact of your video. 
Capturing the essence of corporate brands
Capturing the essence of a corporate brand requires more than just technical skills; it demands a deep understanding of the company's values, culture, and target audience. Click Play Films makes sure to properly onboard our clients, ensuring that we take the time to immerse ourselves in your brand and truly comprehend what makes it unique.
Through effective storytelling techniques, visually compelling imagery, and strategic messaging, we ensure that your corporate video resonates with viewers on an emotional level. Our goal is to create videos that not only inform but also inspire your audience.
To Speak with a Producer Right Now!
from Preproduction to Postproduction
Chicago is home to numerous production companies that offer a wide range of services. However, finding a production company that can manage every aspect of your project, from preproduction to editing like Click Play Films, is crucial for success. That's where our turnkey, comprehensive video production services come in. Our focus extends beyond basic videography; we provide scriptwriting, casting, and location-scouting, and a full array of production services. This ensures that every element of your project is meticulously planned and executed under one roof. Our team takes the time to fully understand your objectives, develop creative concepts, handle all technical aspects of production, and provide post-production support such as editing and color grading. We take pride in delivering results that not only meet but exceed our client's expectations.

Our team of producers is made up of artists who possess exceptional creativity and skills in design, photography, animation, and more. We leverage these talents to create unique videos that captivate your audience by standing out from the crowd.
We start every video project with the initial kick-off call, where we exchange all the information necessary to craft the video. This includes setting the main messaging for the video and the metrics we need to achieve with the target audience.
Video production is not just about capturing footage; it's about communicating a message effectively. 
Post-production is critical when it comes to finishing the video. This is where we put the pieces of the puzzle together and make it pretty to watch. This includes creating the actual timeline as well as all the little things that make the video polished and ready for the world, such as coloring and sound design mixing.
We deliver all videos in as many formats as you require. With so many platforms for your video to be distributed every video we produce can be outputted to live natively on each platform you require, including all social platforms like Facebook, Instagram, YouTube, Twitter, and any other format you will need.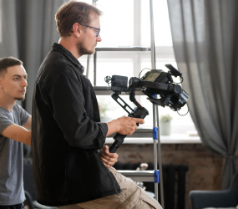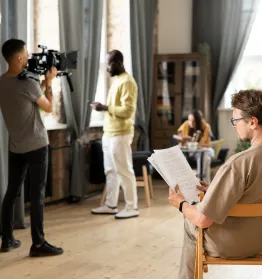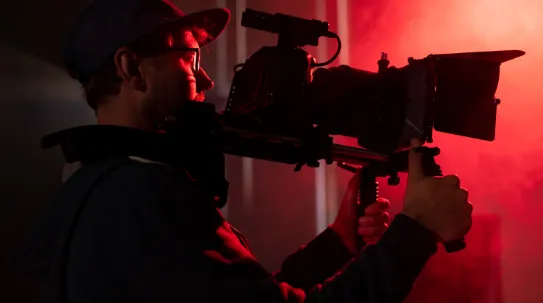 Live Streaming Company & Video Broadcast Services
We provide live streaming and video broadcast services with extensive experience in producing high-quality broadcast content for various platforms, including television and online streaming. Whether it's a reality TV show or a promotional campaign, we have the expertise to deliver professional-grade videos tailored specifically for broadcasting purposes.
While working with multiple studios in Chicago, we also have the flexibility to cater to clients across the city. Our state-of-the-art studio partnerships allow us to offer our clients space that is equipped with cutting-edge technology, providing an ideal environment for creating visually stunning videos. Our team is well-versed in Live Streaming and broadcast requirements and technologies, ensuring that your videos are produced according to specs and will really shine on the big … or little screen.
Instant Quote for Any Chicago Video Production Project
Have a video you want to make? Tell us about it! Our team can help you understand what it will cost, and even produce it for you!
Engaging Videos For Social Media​
In today's digital age, social media has become an integral part of our lives. With millions of users scrolling through their feeds every day, it has become a powerful platform for businesses to connect with their target audiences. Click Play Films effectively grabs the attention of these users through highly optimized and engaging videos produced to stand out on social media platforms.
Captivating Storytelling that Resonates with Target Audiences
The directors and producers at Click Play Films understand that storytelling plays a crucial role in capturing the interest of viewers. By crafting narratives that resonate with target audiences, Click Play Films can help you establish an emotional connection and leave a lasting impression on your audience. Whether it's showcasing the journey of your brand or highlighting customer success stories, captivating storytelling can make your videos stand out from the crowd.`
Target Audencies
We understand that storytelling plays a crucial role in capturing viewers' interest. By crafting narratives that resonate with target audiences, Click Play Films can help you establish an emotional connection and leave a lasting impression on your audience. Whether showcasing your brand's journey or highlighting customer success stories, captivating storytelling can make your videos stand out from the crowd.
Measurable Results
Click Play Films can produce an awesome video for you, but the success of any video campaign lies in its ability to generate measurable results. Exceptional quality videos have the potential to go viral on social media platforms when they strike a chord with viewers. By delivering content that resonates with their interests or provides value, you increase the likelihood of them sharing it with their peers.
Video effectiveness
To measure the effectiveness of your video campaigns accurately, tracking key metrics such as views, likes, comments, shares, click-through rates (CTR), and conversion rates is crucial. These metrics provide valuable insights into your videos' performance and allow you to make data-driven decisions for future campaigns. Check out some of our case studies to see some of the incredible results we have achieved for our clients!
Chicago Video Production at Its Best
Click Play Films stands out as the leading production company in the industry. With our decades of experience providing comprehensive services from preproduction to postproduction, we offer a one-stop solution for all your video production needs. Our focused, small team in Chicago is dedicated to providing exceptional quality and engaging videos for live streams, broadcast, social, and earned media.
To experience the best of Chicago video production, look no further than Click Play Films. Whether you are a business looking to create impactful marketing videos or an individual seeking high-quality videography services, we got you covered.
So why wait? Contact Click Play Films today to discuss your video production needs. Let our experienced teams bring your vision to life with engaging content to captivate your audience.
These FAQs cover some common questions about our Chicago video production services. If you have any further queries or specific concerns, don't hesitate to reach out to us at 773-260-0217 or email [email protected]
The duration of a video production project depends on various factors, such as the complexity of the concept, the length of the final video, the availability of resources, and client feedback timelines. It is best to discuss your specific requirements with Click Play Films for an accurate estimate.
Absolutely! We encourage collaboration with our clients. Your input is valuable in shaping the creative direction of the project. We will work closely with you to incorporate your ideas and bring them to life.
Yes, we offer comprehensive services that encompass all stages of video production, including postproduction. Our skilled teams have expertise in editing, visual effects, sound design, and more to ensure a polished final product.
Certainly! We have an extensive portfolio showcasing our past projects.
Yes, Click Play Films has received positive feedback from numerous satisfied clients. You can find testimonials on our website, in directory listings, or ask for references to hear directly from those who have worked with us before.
Absolutely! Click Play Films has experience in capturing live events through videography as well as providing live streaming services. We understand the importance of delivering real-time content that engages audiences worldwide.
Simply reach out to Click Play Films through our contact form. We will guide you through the initial consultation process, where we can discuss your requirements, budget, and timeline to kickstart your project.